"Empowered women empower women," so the saying goes, and it's certainly true for It's A Girl Thing 2018, an event where young female thought leaders took to the stage to perform and give talks to inspire a generation of young women to believe in themselves and pursue their dreams.

Aside from revealing their favourite Filipino food (sisig for Megan Batoon and sinangag for Meredith Foster, ICYW), the top influencers shared their thoughts on self-confidence, embracing your skin colour, and overcoming challenges.

Here are 9 highlights and insights we took away:

You'll Figure It Out
YouTube star and singer Renée Dominique opened the event with her song "Figure It Out," singing, "Where do I go, I don't know/But I'll figure it out, figure it out/What do I feel/I can't explain it/But I'll figure it out."—a sentiment young women can definitely relate to.

Notes on Self-Confidence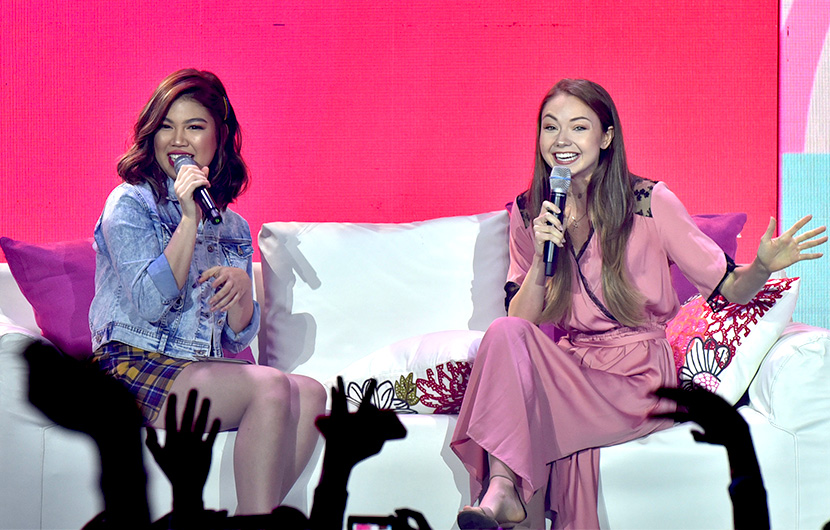 Renée Dominique, vlogger and content creator Dani Baretto, and Gracenote vocalist Eunice Jorge revealed how they developed their self-confidence.

According to Renée, "No one will believe in you like you believe in yourself, but of course you also have to surround yourself with a positive environment."

Meanwhile Dani shared how she overcame body-shaming comments online. "Regardless of how bad the comment is, I just always tell myself, 'You know what? You look good, girl. You look good and if you have confidence, nothing can really bring you down, and it's just really up to you how you're going to manage the situation…'"

With Eunice, it's all about being true to who you are. "I think it's really important when you're being your natural self. You get to accept you for who you are, and you learn to surround yourself with the right people, who [know and encourage you]."

Dani also revealed that going after her passion was what helped her become more confident: "I'm passionate about writing, I'm passionate about speaking in front of everyone. That's where I feel most confident. I guess that's how I build my self confidence, […] I follow my heart."

Lessons on Inspiration and Success from Megan Batoon
Famous content creator and choreographer Megan remarked on how finding inspiration can be a challenge when you're a content creator. "When I lose inspiration, I take a step back and I watch something that inspires me. I watch some of my favourite comedians and other content creators that I really respect. And I [tell myself], 'This is what it's all about. It's not about the views and the numbers. It's not about figuring out what the algorithm is. It's like, 'Do you like what you're making? Do you want to see what you're making?' And that's what I always go back to."

She also talked about success, saying, "It's not a well-paved road. I have a friend who said, 'Success and failure are both temporary,' so don't get a big head when you do something well, and don't be too hard on yourself [when] something goes wrong. It's an ebb and flow, and as long as you keep persisting and you're doing it for the right reasons, you're always going to succeed."

Megan Batoon's Dance Performance
To the crowd's delight, Megan came back out to rock the stage with a dance number. 'Nuff said.

Liane V's Tips On Staying Motivated
When asked what she'd tell her followers on staying motivated, Liane said, "Make sure you know your worth because the industry can distract you. You don't have to settle for less. You are important and you have a purpose."

Asia Jackson Encourages Filipinos to Embrace Their Brown Skin
Talking about how her experience being bullied for her skin colour inspired her to launch her #MagandangMorenx movement, Asia said, "When I was a child I was bullied for having darker skin. I also had friends and family, classmates who were also made fun of [for] their brown skin tone. I remembered how that felt when it was done to me, and from that day on I was like, I never want anybody else to feel this way."

Janina Vela Sings "Unstoppable"
Before taking to the performance stage, Janina took time to talk about her struggles with anxiety. For her, Unstoppable serves as a reminder that whatever it is you've been through, you are still brave. You are still unstoppable.

"Sometimes I forget that," she confessed. "That's why it's important to open up to people [whom] you trust, to remind you that all your brokenness can be turned into something beautiful."

Janina Vela Interviews Meredith Foster
Janina interviewed her favourite influencer, Meredith Foster, who shared her thoughts on self-love in the digital age: "I think a lot of focus in this day and age has been based on what someone looks like on the outside, [but] as long as you love the person that you are and you know who you are, that's really what matters the most.

Meredith also reminded the audience that it's not about how many likes you get on a photo, or how many comments or views you get on YouTube, before asking them to join her in saying, "I am beautiful!"

Ending the Event with a Super Panel
The event ended with everyone up on stage answering questions from their fans and dropping nuggets of wisdom.

Solenn Heussaff described a strong woman as someone who's not afraid to be vulnerable, "Sometimes we're afraid to share how we feel, thinking that when [we] keep it in, we're being strong, but in fact [it's] when [we] share [our] feelings [that we're] actually more courageous."

For aspiring creators, Hannah Pangilinan's advice was to "just start. If you keep prolonging your beginning, it's just going to stop you from all the stuff that you could possibly do." Meredith added, "I love this saying: 'Failure is only a stepping stone to success.' So don't be afraid to fail."

Finally, when asked what they loved about being a girl, Asia said, "I feel like it's a really great time to be a woman, because we just realised that we have more power than we have ever [had] before, and I'm so excited to see what women are going to be doing in the next few years."

So are we, Asia.